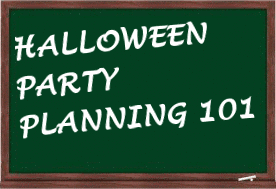 Welcome to Halloween Party Planning 101, where you'll learn how to plan a Halloween party for adults or kids effectively to ensure it's a huge hit. If you've never hosted a Halloween party before, or you have but it wasn't entirely successful, this crash course is definitely for you.
Coming up with Halloween party ideas for adults or kids can be challenging, but that's just the beginning. There are 12 critical things you absolutely must consider in order to host a successful Halloween party.
As with most things, the best place to start is usually at the beginning, which is precisely what we'll do here.
We'll get into some details around specific themes and topics here on Halloween Party Experts (see the menu sections), but for now let's make sure you've considered all the basics, which we'll organize into the following categories:
Take a moment to learn more about each of these key considerations and gain insight that will set you up for success. You'll also find some genuinely useful tips and recommendations to help you and your guests get the most out of your party.
---
1. Guests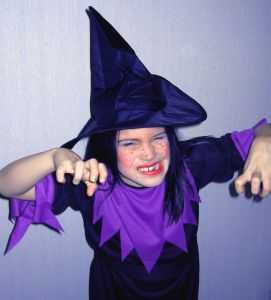 Keeping your guests top-of-mind is the absolute key to hosting a great Halloween party, and it should inform every decision that follows. If you haven't decided who you intend to invite yet, do so first.
After all, a children's party is quite different from an adults-only party, which in turn can be different from one where family or co-workers are present.
Ask yourself:
What is the age range? Is this a children's party, an all ages party, or a drinking-age-only party?
How large of a crowd are you hoping to attract?
Will the crowd be made up mostly of singles, couples, or families? Will you be inviting mostly family, friends, or co-workers?
Are the majority of these people dancers, drinkers, or minglers?
Will guests be allowed to bring friends? If so, will you limit at +1 or leave it open?
Do any of them not get along with other invitees? This can be a tricky situation. I generally prefer to invite everyone I would like to see there regardless of politics, and let them work out for themselves whether they want to attend. That said, you may want to take any potential conflict into consideration from the start, particularly if it might impact some of your favourite guests.
If you're concerned about party crashers, you can read my post on effective ways to deal with them.
Likewise, if you're hosting a children's Halloween party and need ideas beyond what I've covered in this article, feel free to check out the Ideas>Kids Stuff section.
---
2. Time & Place
Once you know the size of the crowd, you can determine the best place to host your Halloween party. Will it be at your place, a friend's home, or will you need to rent a larger space? If it's the latter, be sure to book the hall well in advance. Ensure everyone knows exactly how to get to the party, and where to park.
The date of the party is crucial as well. I typically host my parties on a Saturday and usually the week before Halloween, even if October 31st happens to fall on a weekend. I do this because I don't want to compete with Halloween itself, as many people – particularly out-of-town guests – will place their children's trick-or-treating ahead of an adult party. Typically anytime in October is fine, but again, keep your guests in mind.
Once you've established the location and date, consider the duration, start and time of the party as well. Most Halloween parties (children excepted) tend to begin when it starts to get dark outside. I live in the Eastern Time Zone and at my house, the best start time tends to be around 8pm.
How late will your party go? For kids, 2-3 hours is usually plenty, but for adults you may want to specify the duration. I've stopped indicating the end time for my own parties in the spirit of letting people have as much fun as they like for as long as they like, but truth be told, we've had people leave the house as late as 6am as a result. Know yourself and your limits. Make sure you're comfortable staying up late if you don't specify an end time!
While we're on the subject of time, if you're wondering how long in advance to plan your party, check out my post on that very subject here.
---
3. Type of Party
The word "party" means different things to different people, and in different situations. For this reason, it's crucial that you have a clear picture of the type of party you're planning on hosting.
Remember the golden rule: keep your guests in mind. That means not only having the kind of party you want (you need to enjoy yourself too after all, otherwise what's the point?) but catering to the types of guests you're inviting as well. Is this going to be a dance party, a cocktail party, a dinner party, a children's party, or a murder mystery party? What about the intensity of the atmosphere? Are you aiming to have some innocent fun, genuinely frighten grown adults, or host a sexy Halloween party?
Keeping your guests in mind also means ensuring that they know what type of party they're being invited to. A well-worded invitation can help with this. More on that below.
Something I've done in the past is hosted a children's party on Saturday morning for a couple of hours, followed by a drinking-age party at 8pm. At the adult party, we had the bar and dance floor downstairs for those who really wanted to party, and the food and mingling upstairs for those who wanted to escape the commotion and catch up with old friends. This format has worked so well for me that it's my default, go-to setup nowadays as it allows me to cater to as many guest types as possible. People really enjoy themselves and talk about the party for weeks afterwards, and look forward to the next one all year.
This isn't to suggest that mine is the only approach. There are many ways to have a highly successful Halloween party. Tailor yours to your own tastes,  while keeping your guests in mind, and you'll be on the right track.
---
4. Theme
Will your party have a theme or will it be an open, generic Halloween celebration? People tend to have a great time regardless of whether or not there's a theme, but it's a question that guests tend to ask, particularly when they're thinking of what costume to wear, so you should have your answer ready.
Considering whether you want a theme is also important as it impacts not only costumes, but also decor, music, and sometimes even food and drinks as well.
Here are some popular themes to help spark your brainstorming session:
Children's parties: Pirates, Ghosts, Clowns, Monster High, Scooby-Doo, Hotel Transylvania, The Nightmare Before Christmas, The Corpse Bride, Superheroes, Princesses, Animals
Adult parties: Zombie Apocalypse, Game of Thrones, Haunted House, Vampires, Vampire Nurse, Mad Scientist, Classic Monsters, Masquerade, Medieval/Fantasy, Egypt/Mummies, Eighties (or 1950s/60s/70s), Western, Murder Mystery, Motorcycle Gang, Rave/Club, Cannibal/Tribal, Aliens/UFO, Superheroes, Pirates, Fall/Autumn
Check out the Ideas section for more details on how to incorporate some of these themes into your next Halloween party.
---
5. Costumes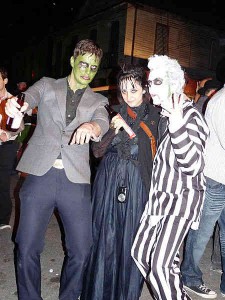 People will want to know whether costumes are mandatory. They'll also want to know what kind of costume to wear, which is why deciding on a theme is helpful. Keep in mind that there is absolutely nothing wrong with an open, generic 'wear-any-costume-you-want' theme – just be sure to communicate the expectations in your invitations. I used to write "Costumes strongly encouraged" in my invitations, but lately I've changed it to "Costumes required." It's really a matter of personal preference.
A word of advice – make sure that as the host, you have your costume ready to go well in advance, with enough time to try it on and return or alter it if necessary. The last thing you want is for people to put all this effort into their costumes and to have yours be rather lacking. As the host, many of your guests may look to you as a bit of an expert so it's good to put your best foot forward whenever possible.
Speaking of expertise, your guests may ask you for costume ideas. It can be surprising how many people really don't know what to dress up as for a Halloween costume party. I've taken to putting images of sample costumes or thematic characters on my Facebook Event page whenever I'm planning a party. It keeps the conversation going on Facebook and provides some really great inspiration for costumes.
Another common concern is around the cost of costumes and accessories. Some guests may choose to make their own costume because they are highly creative and/or unable to afford purchasing one. A good host is able to offer suggestions around costume ideas and retail or online stores where guests can purchase what they need. People really appreciate the extra help, particularly when they make a point of saying something like, "I have no idea what to go as."
There are numerous places where you and your guests can buy costumes, but I'm partial to Spirit Halloween and Amazon.com
 (or Amazon.ca
if you're in Canada) because of their wide selection and fast shipping. I would also recommend Official Costumes
. They have an extensive selection of Halloween costumes for men, women, and kids, including the popular licensed stuff. They're also available to help via phone and live chat (not just email), which is a real plus.
If you or your guests prefer to make your own costumes, you might want to check PandaHall
for wholesale prices on beads, costume jewelry, temporary tattoos, accessories, and jewelry-making supplies.
---
6. Invitations
The best invitations are, by far, hand-delivered, hand-designed hard copies. I like to write my own invitations and ensure they match the theme of the party. I will sometimes print them on parchment-style paper
, roll them up like into scrolls, and tie them with a thin strip of brown, black, or orange leather. I would then hand-deliver them to all my local guests. Out-of-town guests would receive the same invitation folded and mailed via the postal service.
Of course, you can also purchase ready-made invitations
if you don't have the time or creative mind to design your own.
In today's world, social media goes a really long way to help reach guests and generate buzz. Create an Event page on Facebook for your party and invite your guests (at least those who are on Facebook). Be sure to update it regularly but don't overwhelm your guests. The last thing you want to do is harass your friends into attending your party!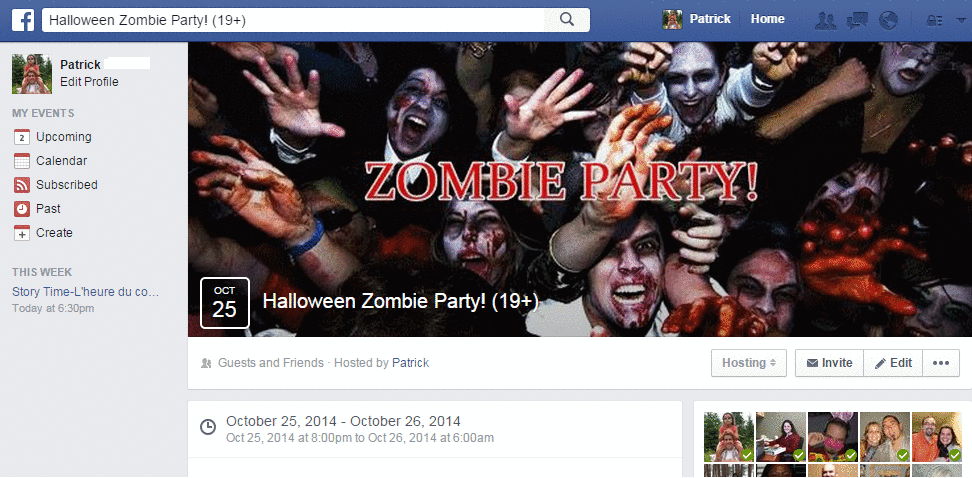 Another great benefit of the Facebook Event page is the automatic reminders that appear on your friends' news feeds as the event approaches. If you're creating an Event page on Facebook, will you allow guests to be able to see who else was invited?
My approach of choice is to use both the hand-delivered hard invitation with a Facebook Event page. That way I keep my guests in mind (the golden rule, remember?) and cater to their various tastes and preferences. This also gives them more options to RSVP: Facebook, email, or phone. If you plan on using this kind of combination, however, I recommend sending the hard copies first, as they tend to have more of an impact, particularly when they're unexpected. Follow them with a Facebook invitation a few days after you are sure everyone has received the hard copies.
Regardless of what you choose, your invitations should include some basic information:
Date & time
Location (and directions if required)
Theme (if applicable)
Costumes (are they mandatory, encouraged, or not applicable?)
Drinks (is alcohol being served, are guests expected to bring their own?)
Food (are you serving a five-course dinner or just finger foods?)
Are your guests allowed to bring friends?
RSVP deadline and how to respond (Facebook, email, phone?)
---
7. Decor & Props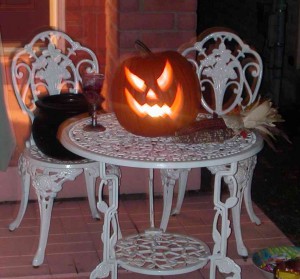 While it's not everything, decor is the single most important consideration in setting the mood for your Halloween party. This is absolutely determined by personal choice and informed by the theme of your party (if there is one), but there is nevertheless good decor and bad decor.
Like anything worth doing, decorating the space for your party is worth doing well. Take the time to make and/or purchase only the decor that truly reflects the mood you're trying to achieve.
Now that you know what type of party you're having and who the guests are, you should have a pretty good idea of the overall effect you're striving for. Keep that vision in mind as you peruse through countless decor options. Don't deviate from it (at least not too much) or you risk a hodge-podge of random Halloween stuff scattered about everywhere, which is definitely not what you want – unless a haphazard look is your theme of course!
Here are some key decor elements you'll want to consider:
Animatronics: Moving things that literally go bump in the night to scare your guests! What's a zombie party without a crawling zombie to chase your guests? Check out my post on how to choose the best animatronics.
Props: Static props to spook everyone, from skulls and saws to brooms and bats. For more information, read my post on how to choose the best props.
Standees: Life-size cardboard replicas of all your favourite monsters and characters. I used zombie standees for my zombie apocalypse party and they were extremely well received.
Cutouts: Basic cardboard cutouts you can stick on the wall with sticky tack; I found some great glow-in-the-dark ones that added to the atmosphere quite nicely.
Blood and gore: Dismembered body parts, brains, and bloody hand prints – what's not to love? I like to put bloody hand prints on the bathroom mirror for a nice surprise.
Outdoor decorations: Inflatables, gravestones, lanterns, ghosts, zombies, and witches, to name a few.
Jack-o-lanterns: Classic Halloween must-haves — don't forget the flicker lights, carving tools, and stencils!
Fall decor: Keep your decor subtle and understated with autumn leaves, wreaths, horns of plenty, and scarecrows.
Fog machines: Also known as smoke machines or foggers, these can create an amazingly eerie effect, but be careful – some should only be used outdoors for safety reasons. Check out my review of the best low-lying fog machines if you're looking to buy one. You can also get fog machines that are directly incorporated into a prop, like this really creepy reaper from Cascio Interstate Music, which also sells standalone foggers, black lights, and DJ equipment:
---
8. Music & Sound Effects
Let's take a moment to talk about sound. Halloween isn't just about scary-looking things after all… it's also about what you can't see, and what you hear in the dark.
Regardless of the type of Halloween party you're having, you may want to consider sound effects – whether they play all night outside, or indoors just until the music starts – because they add an undeniable creep factor to your spooky night of mayhem. That is, assuming you get your hands on some realistic sound effects, not the cheap corny stuff that sounds like a man and woman going "meow". Be sure to listen before you pay, or at the very least, check out consumer reviews. You can also check out my recommendations here. I sometimes like to sprinkle some classical instrumentals like the very popular Toccata and Fugue In D Minor by J.S. Bach into my sound effects as well.
If you're having a children's party, you'll want some nice child-friendly Halloween music
and there are tons of mp3s and CDs available for precisely that purpose. Some even have interactive songs that kids can dance and move to.
The heavy lifting occurs if you're having an adult dance party, as keeping the mix just right can make the night. Remember the golden rule and ask yourself what kind of music your guests like. Throw in some Halloween must-have classics (Thriller
, Ghostbusters
, and Monster Mash
to name a few) and you'll be on the right track – no pun intended!
Then, the hard part – if you're not hiring a DJ, you'll want to invest some time beat-matching your songs until you have the ultimate playlist. Jumping from 140 beats per minute to 85 beats per minute is not going to sound right, nor will it feel right, and people will notice.
There are incredibly effective DJ apps out there that can help you with this — and we'll delve into them another day — but the question you need to ask yourself is: How much time, effort, and money, am I willing to spend to get the music just right? If you're looking for a quicker solution, you can download free beat-mapping software that will analyze your playlist for you. Personally, I use the free BPM Counter from AbyssMedia for this purpose. I also ensure the volume is more or less the same across my playlist by normalizing it with the free mp3Gain app.
All you need to do then (more or less) is re-order the songs so they're not more than 5-10 BPMs apart (the closer the better). I've done this on my Android tablet (with the free Party Mixer app), added a crossfade to eliminate silence between songs, and let the tablet play all night. People danced, cheered, and had a great time. But even with this 'simpler' approach, I must be honest: out of everything else I did to plan that party months in advance, it's the playlist that took the most of my time. If you're having a costume dance party for adults, do not underestimate the importance of getting the music right.
If you're looking to save some time, check out my free, ready-made Halloween playlist!
---
9. Food
Are you inviting your guests to a full-course dinner or simply serving finger foods and horror d'oeuvres throughout the festivities? Are you looking to prepare your food from scratch, or serve the tastiest ready-to-serve meals and snacks you can find?
Consider these questions carefully as they will determine how much time you spend in the kitchen, possibly away from your guests.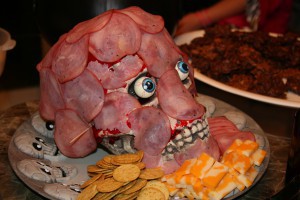 There are, of course, countless Halloween recipes to help you serve up devilish dishes at your Halloween party, but try to keep them as closely tied to your theme as possible. Children's parties are the perfect occasion for banana ghosts, candy apples, and chocolate spiders, while zombie fingers or a decapited meat-head are very a propos for a zombie or monster party. Check out the Recipes page for ideas.
Prepare as much food as possible before the day of the party. However much time you think you'll need to spend in the kitchen during the party, you are likely underestimating. Ask for help if you need it, but do so in advance of the party.
You can even have a potluck. Many people offer to bring something, so you can easily tell them to bring something thematic. Keep track of how many appetizers, main courses, and desserts you're expecting so that you can focus your energy on filling the gaps.
---
10. Drinks
Brain hemorrhage in a shot glass anyone? How about a nice glass of red blood, or a cup of poison?
Drinks are all part of the fun at a Halloween party, and they're an important consideration. Will you be serving alcohol at the party or is it an all-ages party? Be sure to consider how you will set up your bar.
If alcohol will be served, are guests expected to bring their own drinks or will you be providing for everyone? If you're providing, make sure you have a good selection of beverages. Keep a bucket of ice handy, along with any mixes you think your guests may want, like orange juice, cranberry juice, or Clamato. Rotate and restock your refrigerator throughout the night, and consider having someone help you with the drinks. Just be sure to ask them in advance of the party.
If you want to serve Halloween-themed cocktails, shots, and beers, check out my favourite Halloween alcoholic drink recipes for inspiration.
Sticking spooky beverage labels to your bottles of wine, spirits, and soda is also an easy and inexpensive way to add some fun to your drinks and really get into the spirit of things – no pun intended!
If you're using ice coolers instead of a refrigerator, of someone shows up with a cooler full of drinks, you may want to keep a hand towel or two around for wiping the condensation and melting ice off the bottles and cans. You wouldn't want anyone slipping on a wet floor.
Whether or not you serve alcohol, make sure you also have coffee, tea, soft drinks and water available throughout the night.
Lastly, do you have room for people to spend the night in the event they drink too much, or alternate means of transportation secured? The last thing you want is someone getting hurt on their way home.
---
11. Lights
Making us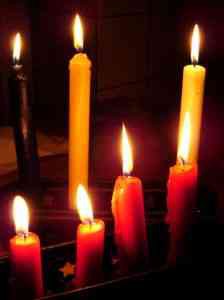 e of ambient lighting can really set the mood. I didn't do this until my fourth or fifth party, and I wish I'd done it sooner.
Halloween, after all, is supposed to be dark and spooky, not bright and sunny. Dim your lights, or better yet, replace your bulbs with orange, amber, or red ones. You might even want to consider applying invisible glow-in-the-dark paint to some of your decor or props for an added creep factor.
Near the dance floor, consider installing black lights for a fun, popular glow-in-the-dark effect. If you can afford to, take it one step further and add dance lights. I personally use the American DJ Spherion Tri LED rotating dance light (feel free to check out my review of it) and it's a winner every time, but there are plenty of options out there.
Whatever you do, I strongly recommend that you keep the kitchen slightly better lit to avoid accidents. I like to use amber lights here (not the bug repellent ones, just yellow-coloured bulbs).
Candles are of course perfect for Halloween, but because of safety concerns, I choose to line my spaces with the flameless, battery-operated variety. They flicker beautifully and as an added bonus, don't heat up the space or burn out. If you're interested, check out my review of Sodial flameless candles here.
I've also tried hiding sensor-activated strobe lights
behind the blinds in the bathroom. Whenever someone walks in, they flash like lightning, and thunder roars from the small attached speaker, giving the illusion there's a storm outside. It's all about the little things! If you're into bigger things, consider creating your very own outdoor Halloween light show!
One final thing – if you plan on taking photos, be sure to disable the flash or use night mode on your camera. Nothing ruins beautiful ambient lighting like a bright flash. You'll end up with photos that lack all the mood and spook from your party.
---
12. Games & Prizes
Children's parties cry out for games and prizes. Depending on the age and number of children involved, there are a number of options. For my daughter's party, the kids played Halloween Bingo
, Halloween Twister
, Pin the Smile on the Skeleton
, and How-Many-Bugs-in-the-Jar. They then decorated their own Halloween cupcakes with icing and thematic sprinkles, with adult supervision of course. We gave an early trick-or-treat bag as a parting gift for everyone who came and prizes for those who won at games (prizes like plastic bats, Halloween stickers, and candy eyeballs). Visit the Ideas>Kids Stuff section for ideas. If your guests will mostly be adolescents, check out these 10 Halloween games for teenagers instead.
Adult parties can quickly turn corny if you structure them too much and include games (Murder Mystery parties excluded), but a door prize can definitely add some unexpected fun to the night.
You can also hand out best costume trophies if you like; just don't spend too much time on it, as people will want to get back to the party as soon as possible. You can have guests vote anonymously or by applause for the best costumes, but try to have as many categories as possible (most original, scariest, sexiest, funniest, etc) so that more people win.
If you're playing any games or handing out any prizes, though, be sure to explain the rules first. Whether your guests are six years old or sixty, no one likes to be confused or feel that something is unfair.
As with all things Halloween, you can find plenty of games and prizes in retail stores or online. For this reason, it's a good idea to have a sense of what you're looking for in advance so that you don't feel too overwhelmed.
---
Learn More
We've covered the basics here, but please feel free to check out my other posts including the Ideas section for more in-depth information on any of these topics and more party planning help.
In the Reviews section, I'll review relevant products to let you which ones to avoid and which ones I recommend, based on my personal experience. As always, if you have any questions, don't hesitate to reach out by leaving a comment below!