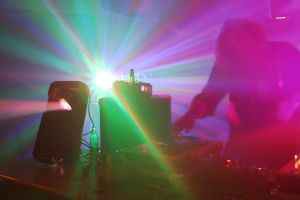 Creating the perfect Halloween dance party music playlist can be time-consuming and challenging, especially if you're determined to get it right. After all, the difference between a random selection of mp3s on shuffle and a planned-out playlist optimized by beats-per-minute for maximum energy, mood, and enjoyment, is the amount of time, effort, and knowledge that's put into it.
After years of planning and hosting Halloween parties, I've learned how to build a dance playlist that will keep guests moving and cheering all night long. By combining the insights of professional DJs with my own research and years of party-planning experience, I've been able to craft increasingly popular playlists that are a hoot at Halloween parties. I'd like to share my most recent – and most effective one – with you now, free of charge, in the hopes of helping make this crucial step of Halloween party planning easier for you.
---
Mix it Up, Fix it Up, Turn it Up
A few quick pointers before we jump to the playlist, if I may.
In my experience, it's best to provide a mix of music genres, but only ones that will themselves mix well with your target audience. In my case, it was 20-40 year old guests looking to dance, drink, and let loose, so I went with a combination of 120 songs that included dance music, Halloween songs, special requests and guests favourites, as well as some rock and metal songs. Regardless, each song had to be danceable otherwise it would stop the dancing (i.e., the party) dead in its tracks.
If you want to use the playlist exactly as I have it laid out but don't own all of these songs, you'll need to get those you're missing, obviously. How you do that is up to you but personally, I'm not a fan of pirated music. Aside from being a musician myself and "feeling" for fellow artists, I"ve simply had far too many bad experiences with broken files, spammy tags, viruses, and volume normalization issues. If you've ever done this, you know what I mean. The time wasted trying to find and fix songs just isn't worth it for me. Instead, you can easily purchase digital music (mp3s) directly from Amazon.com
. If you live in Canada, Amazon.ca
has a great CDs and vinyl
section as well.
Once I have all my songs, I like to use a free volume normalizer app (mp3Gain) to ensure my mix plays at more or less the same volume. I then use the free Party Mixer app to create the playlist and play it back on my Android tablet, which is plugged directly into my sound system.
Tip: If your preference is for classical music, check out the Ultimate Halloween Classical Music Collection
 of 50 instrumental masterpieces perfectly suited for Halloween, including Bach's timeless Toccata and Fugue In D Minor
!
Alright, now let's get to the playlists!
---
Full Halloween Dance Party Playlist
Here is the actual, complete playlist I used for my 2014 adult Halloween dance party, which had a zombie apocalypse theme. This list includes the songs from the Halloween shortlist above in addition to my dance mix, which I like to change a bit every year. The songs below are in this exact order on my playlist, and this is the order in which I played them at my last party. They are also optimized per BPM for a mood that goes from mid-energy to high-energy to sexy as the night progresses:
W and W & Blasterjaxx – Rocket
David Guetta – Bad
Shakira – Dare (La La La)
Gummy Bear – I'm a Gummy Bear
Maroon 5 – Moves Like Jagger
Ylvis – The Fox
Halloween Theme (Terror Mix)
Cee-Lo Green – Forget You
Psy – Gentleman
Owl City – Good Time
Kat De Luna – Whine Up
Rammstein – Du Hast
Rob Zombie – Dragula
Rihanna – Disturbia
Haddaway – What is Love
Lady GaGa – Telephone
Katy Perry – Roar
Kreesha Turner – Don't Call Me Baby
Cobra Starship – Good Girls Go Bad
Carly Rae Jepsen – Call Me Maybe
Michael Jackson – Thriller
Ray Parker, Jr. – Ghostbusters
The Walking Dead Theme (The Wobbler Remix)
Kelly Clarkson – Stronger
Justin Timberlake – Sexy Back
Lady GaGa – Just Dance
Kesha – Tik Tok
Shakira – She Wolf
Rihanna – Don't Stop the Music
Katy Perry – Firework
Escape the Fate – Zombie Dance
Black Eyed Peas – Rock that Body
Nicki Minaj – Pound the Alarm
Pitbull – I Know You Want Me
Bon Jovi – We Got It Going On
Deadmau5 – Ghosts 'n' Stuff
Pink – Get the Party Started
Fergie – Fergalicious
Gotye – Somebody That I Used to Know
Beyonce – Single Ladies (Put a Ring on It)
LMAO – Every Day I'm Shuffling
The Cranberries – Zombie (DJ Djim Ibiza Remix)
Nickelback – Something in Your Mouth
Hedley – Don't Talk to Strangers
Katy Perry – Part of Me
Kesha – Cannibal
Pitbull – Timber
RedNex – Cotton Eyed Joe
Psy – Gangnam Style
DJ Snake – Turn Down For What
Meghan Trainor – All About That Bass
Alice Cooper – Spark in the Dark
Rihanna – SOS (Rescue Me)
Shakira – Can't Remember to Forget You
The Killers – Somebody Told Me
Baauer – Harlem Shake
Horrorpops – Walk Like a Zombie
Marilyn Manson – The Beautiful People
Maroon 5- Get Back in My Life
The Ramones – Pet Cemetery
Maroon 5- Lucky Strike
Pink – U + Ur Hand
Christina Aguilera – Genie in a Bottle
Pitbull – Get Freaky
Lil Jon – Bend Ova
Britney Spears – 3
Sean Paul – Get Busy
Katy Perry – Hot N Cold
Nelly – Hot in Here
Nicki Minaj – Anconda
Britney Spears – If U Seek Amy
Outhere Brothers – Boom Boom Boom
Katy Perry – I Kissed a Girl
LMFAO – Sexy and I Know It
David Guetta – Sexy Chick
Jennifer Lopez – Booty
FloRida – Low
Rihanna – S & M
Pitbull – Hote Room Service
FloRida – Right Round
Rockwell – Somebody's Watching Me
Sean Kingston – Fire Burning
Bloodhound Gang – The Bad Touch
Beyonce – Naughty Girl
Robin Thicke – Blurred Lines
Lady GaGa – Monster
Pussycat Dolls – Don't Chat
Junior Senior – Move Your Feet
Hedley – Cha-Ching
Lady GaGa – Poker Face
Pussycat Dolls – When I Grow Up
Nelly Furtado – Promiscuous
White Zombie – I'm Your Boogie Man
Tiesto – Wasted
Christina Aguilera – Lady Marmalade
Elvira – Monster Rap
House of Pain – Jump Around
Black Eyed Peas – Let's Get Retarded
Warren Zevon – Werewolves of London
Rob Zombie – Living Dead Girl
Stevie Wonder – Superstition
Whodini – Freaks Come Out At Night
Ariana Grande – Bang Bang
Iggy Azalea – Work
Nicki Minaj – Mercy (Remix)
Ozzy Osbourne – I Don't Wanna Stop
Kid Rock – Bawitdaba
Gwen Stefani – Hollaback Girl
Lou Vega – Mambo No. 5
Knife Party – Bonfire
Ariana Grande – Break Free
Kesha – Die Young
K7 – Come Baby Come
Serena Ryder – Stompa
Voltaire – Zombie Prostitute
Taylor Swift – Shake it Off
Daft Punk – Get Lucky
Pink – Blow Me (One Last Kiss)
Lights – Up We Go
Kelis – Milkshake
Update as of October 19, 2015:
I would also add the following two songs to this playlist:
Carly Jamison – The Devil's Trying to Bring Me Down
Becky G – I'm a Monster
---
Halloween Shortlist
Here's a list of only the Halloween-themed songs that I normally include in my full dance party playlist. This way, if you want to create your own dance mix, you can simply sprinkle these songs throughout. A word of caution though – you'll want to consider beats-per-minute when placing your songs, as discussed in the "Music" section of my earlier post on how to plan a Halloween party.
Here's my Halloween-specific shortlist:
Halloween Theme (Terror Mix)
Rammstein – Du Hast
Rob Zombie – Dragula
Rihanna – Disturbia
Michael Jackson – Thriller
Ray Parker, Jr. – Ghostbusters
The Walking Dead Theme (The Wobbler Remix)
Escape the Fate – Zombie Dance
Deadmau5 – Ghosts 'n' Stuff
The Cranberries – Zombie (DJ Djim Ibiza Remix)
Kesha – Cannibal
Horrorpops – Walk Like a Zombie
Marilyn Manson – The Beautiful People
The Ramones – Pet Cemetery
Rockwell – Somebody's Watching Me
Lady GaGa – Monster
White Zombie – I'm Your Boogie Man
Elvira – Monster Rap
Warren Zevon – Werewolves of London
Rob Zombie – Living Dead Girl
Stevie Wonder – Superstition
Whodini – Freaks Come Out At Night
Voltaire – Zombie Prostitute
---
 Bonus Halloween Rock Playlist
As a bonus, here's a short list of some Halloween-themed rock and metal songs that you can play before the dancing begins, or if you have an interlude. I just don't find that they fit well in my actual dance mix, so I tend to create a separate playlist for them and usually just put them on shuffle/random:
AC/DC – Hell's Bells
AC/DC – Highway to Hell
Alice Cooper – Welcome to My Nightmare
Annihilator – Alison Hell
Asking Alexandria – The Death of Me
Avenged Sevenfold – Nightmare
Billy Talent – Devil on My Shoulder
Bobby 'Boris' Pickett – Monster Mash
CCR – Bad Moon Rising
Evanescence – Bring Me To Life
Evanescence – Going Under
Finger Eleven – Paralyzer
Guns 'N' Roses – Sympathy For the Devil
Halestorm – Love Bites (So Do I)
INXS – Devil Inside
Jimi Hendrix – Voodoo Child
Jonathan Coulton – Re Your Brains
King Diamond – Halloween
Marilyn Manson – Sweet Dreams
Marilyn Manson – This is Halloween
Maroon 5 – Harder to Breathe
Metallica – Die Die My Darling
Metallica – Enter Sandman
Nightwish – Whoever Brings the Night
Ozzy Osbourne – Bark at the Moon
Rage Against the Machine – Killing in the Name Of
Ram Jam – Black Betty
Rocky Horror Picture Show – Time Warp
Rolling Stones – Paint it Black
Sam the Sham and the Pharaohs – Lil' Red Riding Hood
Spiderbait – Ghost Riders in the Sky
The Doors – People are Strange
Three Days Grace – Break
Three Days Grace – Riot
---
Feel free to post your own suggestions for any of these Halloween party playlists!
Check out the Ideas section for more Halloween party inspiration, or get some party planning advice in the Hosting section.