Hello and Welcome to Halloween Party Experts!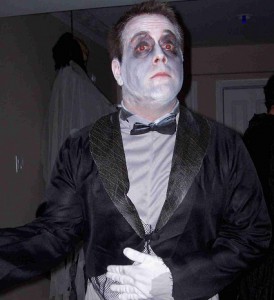 My name is Patrick and I'm the biggest Halloween fan I know. I've been a fan of all things related to Halloween and horror since I can remember, and this has culminated into a contagious fever that has since spread to my family. I live in Northern Ontario, Canada with my seven-year-old daughter, and every year we host two Halloween parties: one for children and one for adults. People enjoy them tremendously, talk about them for weeks afterwards, and look forward to them every year. I've become "the Halloween guy" and it was simply a natural extension that I share some of my knowledge and experiences with others who share a similar interest or are new to hosting a Halloween party.
For those who are curious, I work as a business learning consultant designing various types of corporate training. I also volunteer on a number of local boards and committees in my community. In university, I majored in English Literature and History. My previous background was in teaching and writing, both of which I still love to do. Helping people learn and unlock their potential is incredibly satisfying for me. Writing is a true passion of mine and has been since childhood. I'm also a musician and songwriter by night. Regardless of what I read, write, compose, or listen to, I always have a preference for anything with a horror theme! Enough about me, though.
Why I'm Doing This…
My aim with Halloween Party Experts is to help you plan, organize, and host the greatest Halloween party of all time. I've learned from experience that there are many aspects to throwing a Halloween party – any of which could make or break your guests' experience – and I sincerely want to help you succeed. After all, the words "lame" and "party" should never be in the same sentence!
On this site, you'll find blog entries with ideas, advice, tips, reviews, recommendations, and resources to help you get the most out of your upcoming Halloween party, be it for children or adults.
I genuinely hope that you find the content on this site useful. Please feel free to interact, comment, or ask questions as I'm here to help.
Oh, and I speak French as well, so don't hesitate to reach out in either language. Oui, je parle français!
Again, welcome. Don't be afraid. Open the door (don't mind the creak) and come on in. I don't bite. Just tell them Boris Patrick sent you. Mwah ah ah! 🙂
Cheers,
Patrick
Founder, Halloween Party Experts
halloweenpartyexperts.com
email: patrick@halloweenpartyexperts.com
twitter: @HalloweenHowTo
---
Ready to get started?  Get schooled in Halloween Party Planning 101 or choose any option from the menu above.
---