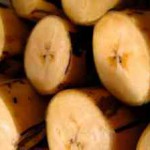 I've got a quick and easy Halloween recipe for a healthy, vegetarian treat everyone will love, especially the kids: boonana ghosts. If you're looking for something you can prepare in just a few minutes that's a great alternative to high-sugar party treats, this one definitely hits the mark! It's a hoot with the kids every time I make it.
Let's begin with a list of what you'll need, then I'll walk you through the steps.
---
Preparation Time
5-10 minutes
What You'll Need
Directions
Peel one banana and cut it in two pieces, crosswise (not lengthwise)
With the pointed end of the banana facing up as the top of the ghost's head, insert two chocolate chips (pointy-side in) into the banana to make a pair of eyes
Add a third chocolate chip below the eyes (pointy-side in) to make a mouth
Insert a Popsicle stick into the cut (bottom) end of the banana to complete your ghost
Repeat steps 2-4 for the other half of the banana to make a second ghost
Repeat steps 1-5 to make as many banana ghosts as you need
Place banana ghosts onto a serving platter as desired, with napkins nearby
---
Tip: Looking for a nice alternative? Substitute chocolate chips with caramel chips or bananas with plantains. You can also dip the peeled bananas in shredded coconut and use raisins or Craisins
 for the mouths. Freezing the boonana ghosts also adds a nice chill to these tasty treats!
Check out more Halloween recipes in the Food & Drink section. For more kids' party ideas, check out the Ideas>Kids Stuff section.