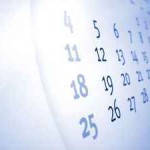 Lately people have been asking, "How long in advance do I need to plan my Halloween party?" That's a great question and one that must obviously be considered at the very beginning of the process, so I thought I'd tackle it right away.
There are some rather standard best practices with respect to how far in advance you should start planning, but each situation is different and so what's right for you can depend on a number of factors. Given this reality, I'll cover both of these areas to help you make the decision that suits your particular needs.
Best Practices
The short answer is that for a party held in late October, I typically start planning in early August. I send out my invitations in early September — including hard copies and via Facebook Events.
This gives me three months to prepare, and gives my guests two months to RSVP and make arrangements regarding things like work, babysitting, costumes, transportation, and travel accommodations for those who live out of town.
I have now begun telling my guests that the party will be an annual thing on the same weekend every year. In my case, it's the Saturday on the weekend before Halloween. This way, people can take up to a year to start making logistical arrangements, even if they don't know the theme yet.
I like to book some time off work for setup and cleanup as well. As my parties are typically on a Saturday, I take the Friday before and the Monday after off.
I find that these are best practices that work really well for me. You might need more time depending on your particular circumstances however, so let's check out some key factors you should consider before you decide.
---
Key Factors
Complexity: A simple, straightforward party will take less time to plan and organize than a more complex one, like for example a murder mystery party or one that involves booking a special guest (e.g. tarot reader, magician)
Crowd size: The more people you plan to invite, the more time you'll need to reach out to them, particularly if you intend to use hard copy invitations
Guest availability: Assuming you know your guests quite well, you should have an idea of how much notice they typically need to make arrangements for things like work or babysitting
Theme: If you're expecting your guests to adhere to a particular theme when buying or making their costume, they'll need more time to prepare than if they were free to simply wear whatever costume they like
Decor and props: If you intend to construct custom decor elements or order special props from around the world that will take a long time to arrive, be sure to consider how much additional time you might need; I know some people who needed to order or build things six months in advance
Helping hands: If you're planning everything by yourself, you'll need more time than if you have confirmed helpers; I normally plan everything by myself for the most part but get help when the time comes to plan and prepare the food
That's about it. If you've considered all of the above, you should have a pretty good idea of how much time you'll need.
Oh, and if you're wondering when Halloween season starts in general, it's typically considered to be September 1st, but some retailers wait until after Labour Day.
---
For more Halloween party tips, learn what 12 things you need to consider when planning a Halloween party or check out the Hosting section.
Also, feel free to share your tips and experiences by posting a comment below!