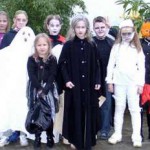 Coming up with Halloween party game ideas for kids isn't always easy. For one thing, there are a million ideas to choose from, but if you're like me, you want some that are fun, easy, and safe. If possible, you'd rather they be free or at least inexpensive. Let me take a few moments to tell what works for me and what I recommend in the hopes of saving you some valuable time scouring the internet. If you're hosting a teen party, you might want to check out these 10 Halloween games for teenagers instead.
Since becoming a father, I've begun hosting a Halloween party just for my daughter and her friends. I've had to find a number of games and activities to keep them entertained. She's six at the time of writing this, but the children in question are typically between 3-10 years old, so the games and activities I'll recommend tend to be a hit with kids anywhere in that age range.
Her Halloween kids parties usually involve 8-12 kids, but these games can easily be adapted to different sizes by dividing the children into smaller groups if necessary.
---
Halloween Bingo
Similar to regular bingo but themed for Halloween and without the numbers. Simply create bingo cards with Halloween-themed shapes instead of numbers and give the kids bingo dabbers (or pumpkin cutouts if you'd prefer to avoid the inky mess).
Call out the shapes and have the kids mark them on their card. First one with a straight line wins! If you want, you can buy the same ready-made Halloween Bingo
 kit that I used if you want to save time.
---
Halloween Cupcake Decorating
Bake some chocolate cupcakes ahead of time and let them cool. Have each child spread his or her cupcake with a choice of orange, brown, or white icing or do it ahead of time before the party if you think the kids in your crowd are too young to do it themselves.
Let the kids decorate their cupcakes using a variety of Halloween sprinkles
and icing pens
.
Be sure to have Halloween-themed napkins nearby and small plastic or paper bags for those who want to take their masterpieces home with them.
---
Halloween Twister
Remember Twister? It's the same game you know but with a Halloween twist — see what I did there? Simply flick the arrow on the spinner and tell the kids where to place each limb. If they fall, they're out. Last one remaining wins!
This one you pretty much have to buy, although I suppose you could place some Halloween stickers on top of your old Twister game mat and spinner if you like. Personally, I ordered a simple Halloween Twister
game online and the kids loved it. A word of caution though – be sure to keep an eye on the kids when they're playing – particularly the little ones.
---
How Many Bugs?
This one is super-quick, super-easy, and a great way to give the kids a break between more intense or physical activities. Put plastic or rubber bugs inside a clear jar and ask the kids to guess how many there are.
They can't guess the same number as someone else, so you need to clearly establish the order of guessing (I usually go from youngest to eldest). Whoever guesses the closest to the actual number of bugs without going over wins!
---
Mummy Race
This game should only be played outdoors because it involves running. If you prefer however, you can omit the running portion and make this an indoor wrapping-only race.
Divide kids in teams of two or three and give each team a roll of toilet paper or white streamer
. Count down and have each team wrap one of their teammates (chosen in advance) like a mummy. Once they've used up all the paper, the mummy must run to the finish line, where the first one to arrive wins!
---
Pin the Smile on the Skeleton

My daughter really loves this game. It's a Halloween variation of pin-the-tail-on-the-donkey. Simply blindfold the player, spin them around three or four times, then have them walk forward and try to stick the smile sticker on the poster.
To be fair, establish the number of spins ahead of time so it's the same for everyone. Whoever gets the smile closest to the mark wins! You can check out the version that I use here
.
---
Potato Sack Race
This game should also be played outdoors as it involves running. Have each player step into a Halloween Potato Sack
 (basically a Halloween variation on the original potato sack) hold on to it with both hands. Start the race with a simple "On your mark, get set, GO!" First one to the finish line wins!
---
Check out the Ideas>Kids Stuff section for more child-friendly ideas, or check out some great Halloween recipes in the Food & Drink section.