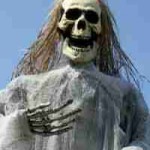 So you want to find the scariest large Halloween props on sale or on clearance? No problem! I can help guide you in the right direction.
First, though, you may want to consider a few things. There are some really low-quality props available, and some high-end ones as well. Ask yourself what exactly you need.
---
So You Need a Prop…
Let's begin with determining what you need. Here are some questions you might want to consider when determining exactly what sort of animatronic you're looking for.
Type: What exactly are you looking for? A creepy witch, a gory severed limb, a cute plastic jack-o-lantern, a scary monster? Is it for indoor or outdoor use? Having a clear idea of you want helps narrow the search, but if you don't, there's certainly nothing wrong with browsing either. Just know that you may have to spend a fair bit of time navigating through all your options. If you're looking for animated props that move, please visit my animatronics page.
Size: How large do you need the prop to be? Does it need to be life-size, or are you looking for something small? How easy to transport, carry, and store does it need to be?
Budget: How much are you willing to spend on the right prop?
Timing: How quickly do you need it? If you want it delivered to your door, there are some great online options, but do take the estimated delivery date into consideration, then decide whether it's worth paying extra for rush shipping.
---
Do Some Research
If you haven't already, read some reviews about the product you're considering. That way, you can find out how well it's rated by other people who've already purchased it.
Check out the Reviews section here on Halloween Party Experts if you want an impartial opinion on various props I've had experience with myself. Most tend to be good to great, but there are some that I'd be careful with (severed limbs with sticky blood that stains everything come to mind).
If you want me to review a particular prop, just let me know and I'd be happy to help out. I can usually turns things around pretty quickly. As always, feel free to leave a comment if you have any feedback or questions. I'm a huge Halloween fan and I get a real sense of fulfillment from helping others. Happy hunting!
---
Go Get 'Em!
When you have a solid understanding of the type of props you're looking for, you can begin the search. A good place to start shopping is Amazon
(or Amazon.ca
if you're in Canada). Spirit Halloween also has a wide selection of props.
---
Check out the Ideas section or get more helpful Halloween party tips in the Hosting section.