I've got some great Halloween zombie party ideas that you can use if you're in the midst of planning your own zombie apocalypse party. I can also help you find great Halloween zombie makeup kits and zombie props that will fit your needs and budget. But first, let's think about your party as a whole.
---
Adults or Kids?
Is this a Walking Dead or Night of the Living Dead party for adults, or a a Monster High party for kids or teenagers? Confirm the theme in advance, if there is one, so that each decision that follows is aligned with your vision.
I hosted a really successful Halloween zombie party last year, which was for drinking age guests only, and had a clear The Walking Dead theme.
---
Invitations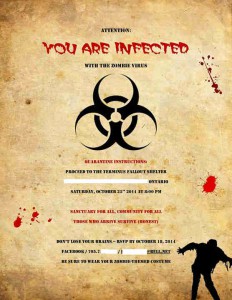 In addition to creating a Facebook Event page (you can see a picture of it in another post here), I hand-delivered a "You Are Infected" invitation to each guest, directing them to go to the fallout shelter.
I used only royalty-free images and stock blood effects to put it together in Word. It took about 15 minutes once I knew what I wanted to write. You can use the same idea or modify it to suit your needs.
I've included an image of the invitation. Feel free to download it for inspiration!
---
Decor
Below are the key elements I used to decorate the house for my zombie party, in addition to my usual lighting and sound effects.
Official The Walking Dead Stuff
I bought two official AMC's The Walking Dead zombie standees (one male, one female) and propped them up around the house.
One was in the corner of the dining room, the other in the corner of the dance floor beneath black lights. People enjoyed these so much that some of the ladies ended up dancing with the male zombie, and the female zombie's hiding spot in the dining room made a couple of people cry out with surprise when they walked in to get some food.
My friend's wife dressed up as Michonne thanks to an official, great-looking costume, and he came dressed as one of Michonne's pets, with the help of some official The Walking Dead prosthetics and makeup. There were some serious The Walking Dead fans at that party!
If you're looking for official The Walking Dead costumes, makeup, and props, I strongly recommend you check out Spirit Halloween because of their huge selection of TWD stuff.
Homemade The Walking Dead Stuff
My favourite villain from The Walking Dead is definitely the Governor, and I knew that had to be my costume. I dressed up as the Governor but since I wasn't able to find an official costume, I had to assemble it myself.
I also printed and put up a poster of the Terminus train car, and posted the letters T-E-R-M-I-N-U-S on a bulkhead in the foyer of my house so guests would see it when they arrived. The idea was to mimic the letters in the window of the Terminus building.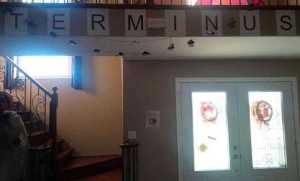 Generic Zombie Animatronics & Props
I bought a crawling, legless zombie that essentially chased people around the first half of the night.
I also bought and hung a rubber decapitated zombie head from the ceiling and scattered a handful of plastic severed limbs on a makeshift bloody table with blood-soaked hatchets, knives, and chainsaw (for Terminus' cannibal butchers).
Other Props & Decor
I hung up a "zombies ahead" warning sign and finished off the decor with some inexpensive glow-in-the-dark cutouts of zombie apocalypse images like the biohazard logo, gas masks, and zombie warning signs.
Finally, I lined up black battery-operated tea light candles all over the place as a tribute to the Terminus chapel.
Food & Drinks
Thematic food can also help add some fun to your zombie apocalypse party. Warm zombie fingers, a decapitated meathead your flesh-eating zombie guests can pick apart and gobble up, or a batch of Carol's official The Walking Dead cookies are all sure to be a hit!
And as for drinks, nothing says zombie party like a Brain Hemorrhage shooter!
Just check out the Food & Drink section for these and other great recipes.
---
I hope these ideas help spark your own brainstorming session. Let me know how your own Halloween zombie party turns out. I'd love to know!
Check out the Ideas section for more Halloween party inspiration, or get some party planning advice in the Hosting section.