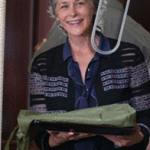 Here's the official recipe for Carol's cookies from The Walking Dead. If you're a fan of the hit AMC zombie drama, you've likely wondered — like me — what Carol's chocolate-applesauce cookies taste like. In my case, it had less to do with a genuine gastronomic curiosity and more to do with the fact that these were the cookies she offered them to a young boy after she threatened to feed him to walkers!
Regardless, they're a tasty treat and oh-so-perfect for Halloween parties – especially zombie-themed ones! This recipe is for a dozen cookies, so if you want "lots and lots of cookies," (see what I did there?)  you might want to make more than one batch.

Preparation Time
25-30 minutes
What You'll Need
Directions
Preheat oven to 350° F.
In a large bowl, combine applesauce, shortening, brown and white sugar. Mix until shortening is blended.
Add baking powder, baking soda, flour, salt, and vanilla extract. Mix until doughy and flour is fully absorbed.
Let dough stand for 3-5 minutes.
Melt chocolate (for best results, use a double-boiler method).
Add chocolate to dough and mix until fully blended.
Place golf ball-sized dollops of dough — about two inches apart — on a non-stick cookie sheet.
Bake for 11-13 minutes at 350° F.
Remove from oven and let cool on cookie sheet.
Place cookies onto a serving platter with napkins nearby.
---
Note: Recipe copyright of AMC and courtesy of amc.com.
Check out more Halloween recipes in the Food & Drink section. For more party ideas, check out the Ideas section.