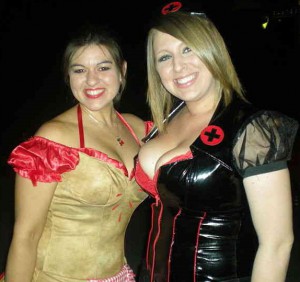 If you need some sexy Halloween party ideas for your adults-only event, let me give you a hand. I will walk you through how to plan, organize, and host a successful Halloween party that's not just for an adult crowd, but is actually explicitly sexy. If you'd prefer to host a not-too-sexy party, you can simply go to the Ideas>Party Themes section and select a different topic.
I'll assume that you've familiarized yourself with the basic considerations for any Halloween party discussed in my Halloween Party Planning 101 post. If not, I recommend you start there and then return here.
---
Tell it Like it is
Ask and you shall receive. People need to understand the type of party they're being invited to, and the theme, if there is one. Your invitations should mention that this is a "Sexy Halloween Party".
You should also specify the minimum age, which will depend on your local laws. My adult parties always target the 19+ crowd because that's the legal drinking age in Ontario. I recommend using the legal drinking age in your area as the minimum age of your guests, but feel free to go higher if you prefer. People with children will also need to know that it's an adults-only party and that they need to make babysitting arrangements in advance.
Also, be sure to invite the right crowd, meaning open-minded, non-judgmental friends. If you know that certain friends are rather conservative and would be put out by this type of party, you may want to reconsider inviting them in the first place. It only takes a couple of party poopers to ruin a sexy mood.
---
Make it Easy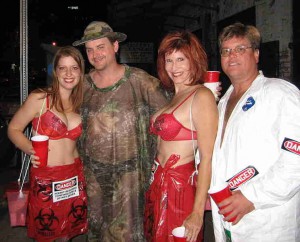 Some people are going to need encouragement before they really let loose, so the easier you can make it for them, the better. Make sure you're wearing a sexy costume yourself and ensure you've made a wide selection of alcoholic drinks available.
You'll also want to play a never-ending playlist of sexy dance music. While dancing gets the juices flowing and lightens the atmosphere, and sexy lyrics enhance the mood. If you want to save some time, feel free to use my ready-made Halloween dance playlist, no strings attached.
If you have sexy props, toys, or dance poles, make sure they're set up for people to pick up and use. Use dance lights to really drive the mood and temperature up. Cascio Interstate Music
 sells a variety of black lights and DJ equipment that you might find rather useful. Personally, I combine black lights
and the American DJ Spherion Tri LED for a spooky, sexy dance club feel.
---
 Encourage the Fun
Encourage your guests to let loose and have fun. Be supportive and helpful from the very beginning.
For example, if your guests need help finding sexy costumes, you might want to recommend that they visit PierreSilber.com, which is known for having "the hottest costumes and sexiest shoes in the world" or  SpicyLegs.com
, which has a really great selection of sexy costumes for all occasions. If they're in a hurry, they can also check out my list of the top 10 sexiest costumes for women.
If your guests need a sexy plus-sized costume and don't know where to look, I would strongly recommend Plus Size Lingerie Boutique, as they have some fantastic costumes under the 'Costumes' tab on their site.
Once the big day comes and your sexy Halloween party is underway, that's when you really want to encourage people to let loose.
One simple thing you can do is give a couple of prizes
for sexiest costume to encourage people to show off. Don't automatically award these to the sexiest guests, but rather to the sexiest costumes, which aren't necessarily the same thing. You want to reward those who took a chance by wearing something very risque. Halloween is a special time of year that many people use as an opportunity to put themselves out there, so be supportive.
Something else you can do is to lead by example. If you have guests who are dancing sexy or really getting into the spirit of things, encourage them with a cheer or join in to keep things moving!
---
Keep it Going
A
s I mentioned earlier, keep the music going with a never-ending playlist of sexy dance songs.
Ideally, don't specify an end time for the party (or i you must, make it as late as possible). The longer the party lasts, the more people will drink, dance, and be merry.
Offer sleeping arrangements for overnight guests, including last-minute crashers who didn't originally expect to spend the night. That way, more people will stay later, which is exactly what you want with a sexy Halloween party.
As a parting gift, you can even give your guests a treat bag full of sexy surprises, like lollipops, lipstick, garters, and handcuffs.
Hopefully this helps. If you have any thoughts or suggestions of your own, please share them by posting below!
Check out the Ideas section for more Halloween party inspiration, or find out which costumes I ranked the sexiest for women.
---