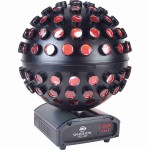 The American DJ Spherion Tri LED rotating dance light creates a variety of amazing multi-coloured light shows, turning your space into a dance club and heightening the energy level at your party. While looking at Halloween lights and decorations, I stumbled upon it and bought mine just in time for my 2014 Halloween party. I haven't looked back since.
I'm not a DJ, so I wanted something I could just set and forget. While the American DJ Spherion Tri LED
can be connected to a professional DMX lighting system, it also has no-hassle standalone mode. I just set my unit to the automatic random program, and it kept the show fun and varied all night long.
The American DJ Spherion Tri LED doesn't just change colours, it changes direction (rare in these types of lights, which typically just turn clockwise). Some of its pre-programmed modes also incorporates strobe effects. Since you can choose the program you want, I usually go with the random one, as it provides the greatest variety of dance club light effects.
Many DJ lights need to be mounted to a light tree or to the ceiling, but not this one! While it supports those types of mounting, it can also be set on a table, which is exactly how I use it.
And the best part? It reacts to the beat of the music, so no two songs ever look the same.
Seriously, if you're looking for something easy and portable that you can use to create a dance club effect at your Halloween party (or any party for that matter), this is the one for you. It will the entire space with light and enhances the celebratory mood as much as a great music mix or an open bar. Everyone loves it.
American DJ also sells a white-light-only version of the Spherion, but I wouldn't recommend it. If you ever need the white-lights-only effect some day, the Spherion Tri LED can easily be set to single-colour mode (including white).
There are also similar models that have a transparent shell instead of a black one, but this in my opinion creates far too much light for a Halloween party. It just kills the spooky mood. You might as well just turn the room lights on.
The only (tiny) thing I would change about this light is that it makes  light clicking sound whenever it changes direction. Of course, since you're using this for a party, no one will notice this if the music is loud enough.
Honestly, you`re going to love the American DJ Spherion Tri LED. My 6-year old daughter loves to dance to it with her friends, so I find myself setting it up rather frequently. I'm not worried about it burning out because it's very cool to the touch (being LED) and can therefore run all night. It's also built to last 10,000 hours or more. That's a lot of parties!
Check out the American DJ Spherion Tri LED for yourself via the Amazon link below. You won't regret it. That's a promise!
---
The Verdict
Pros: Sound activated, auto mode, table or ceiling mount, low heat, 10,000+ hours, DMX compatible
Cons: Soft click when changing direction
Patrick's Pumpkin Rating: 5/5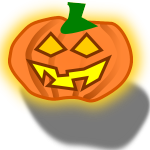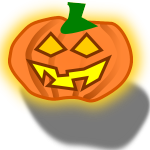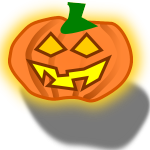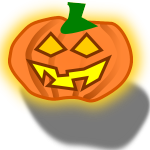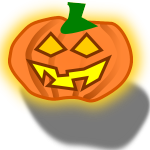 ---
Check out the Reviews section for more product evaluations, or get some party planning advice in the Hosting section.