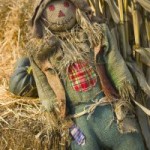 If you're in search of fall-themed party ideas for a more understated, not-so-scary Halloween party, you've come to the right place! Sometimes it's a nice change of pace to host a party that's simple, straightforward, and subtle. The surest way to accomplish that at Halloween is to base your theme more on the season and less on the holiday.
If you haven't already done so, you may want to begin with my all-encompassing Halloween Party Planning 101 post to familiarize yourself with the 12 things you need to consider when planning a Halloween party.
If you've already done that or you're in a hurry, let's get straight into how to apply an autumn theme to your party!
---
Invitations
The invitation sets the mood for your Halloween party, so be sure to choose beautiful, fall-themed invitations
.
If you prefer to print your own invitations, I'd recommend doing so on ancient-looking, parchment-style paper
. You can also use a font that mimics a fountain pen (e.g. Viner Hand ITC) to match the paper. If you want, you can take the invitations that you plan on delivering in person and roll the invitations up like scrolls, tying them them with a strip of burnt orange leather. The rest, of course, you would mail by postal service.
---
Decor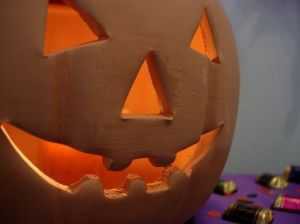 People are visual, so decor is everything. Halloween is also an incredibly visual holiday, and autumn is arguable the most visual of seasons with its beautiful, multi-coloured foliage.
Everyone has their own preferences when it comes to decor, but I like to include some key elements in any fall-inspired Halloween party:
---
Food & Drinks
Pumpkin, squash, cranberries, and all things fall harvest! Nothing says autumn like food – and lots of it! I recommend serving an abundant supply of food, including warm, hearty options. If you're not having a dinner party, you can still include warm hors d'oeuvres, wings, and finger foods as part of your food offerings.
For desert, pumpkin pie
tops the list, along with candy corn
. Cranberry muffins and other seasons desserts are also most appropriate for this type of party.
As for drinks, variety is always best, but I'd suggest making sure that you include seasonal favourites like cranberry juice
and perhaps a nice giant bowl of eyeball-infused fruit punch!
Check out the Recipes page for food and beverage suggestions (including alcoholic drinks like pumpkin spice beer), as well as cookbooks and ready-made treats.
---
Extra Touches
Keep in mind that serving your food on fall-themed plates and napkins also helps enhance the ambiance!
In addition, fog is a naturally-occurring autumn phenomenon and adds an extra spook factor to your party. Consider buying a fog machine if you don't already have one, or check out my review of low-lying fog machines to learn more about the top contenders.
---
Check out the Ideas section for more Halloween party inspiration, or get some party planning advice in the Hosting section. Have a question or comment? Post it below!