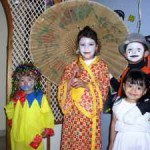 Finding the best places to buy Halloween costumes online can be a challenge. There are so many online retailers that it can be hard to know where to start. Your time is valuable, and you don't want to waste it perusing overpriced or uninspiring costumes. You also don't want to worry about cheaply-made costumes that will tear too easily or worse – that won't fit because of inaccurate sizing.
That's why I've put together a shortlist of the best online costume stores I've found. These are the ones I personally use, and they've never let me down in terms of selection, quality, accuracy of sizes, and price.
---
General Halloween Costumes
If you're looking for Halloween costumes to suit every age range, including popular licensed stuff, here are my top three recommended online stores. If they don't have what you're looking for, you'll probably need to make it yourself:
Spirit Halloween – By far the best place to get your Halloween costume. They have an amazing selection and rarely will they not have what you're looking for. In the past, if I couldn't find  a costume I was looking for, this is where I always wound up when I finally did find it. For that reason, they've since become my first stop.
Amazon Halloween Shop (or Amazon.ca if you're in Canada) – You just can't argue with Amazon's wide selection, fast shipping, and competitive prices.
Official Costumes – These guys have a great selection of costumes, and also provide support via phone and live chat (not just email), which is invaluable when you need help.
---
Sexy Halloween Costumes
Here are my top three recommendations if you're looking for a sexy Halloween costume with some extra spice:
PierreSilber.com – Known for having "the hottest costumes and sexiest shoes in the world." 'Nuff said 😉
SpicyLegs.com – A great selection of sexy costumes for Halloween and all other occasions. Lives up to its name.
Plus Size Lingerie Boutique – The best place for sexy plus-sized outfits, including great Halloween options in their Costumes section.
If you're in a hurry, you can also check out my list of the top 10 sexiest costumes for women.
---
Making Your Own Costumes
If you or your guests prefer to make your own costumes, you can find some great supplies here:
PandaHall – Costume jewelry, accessories, temporary tattoos, clasps, beads, and jewelry-making supplies
Amazon.com / Amazon.ca – Believe it or not, they have a great selection of fabric and sewing supplies
Spirit Halloween – Their Accessories section has ready-made add-ons that can save you valuable time
---
Check out the Costumes section for some great ideas or get more helpful Halloween party tips in the Hosting section.