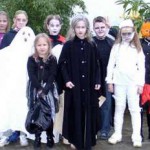 If you're planning a kids Halloween party, there key things you need to consider given the differences in audience from an adult party. I'll help you understand the needs of a younger audience and walk you through best practices to set your party up for success.
If you've never hosted a Halloween party before, I'd recommend that you begin with my Halloween 101 post: How to Plan a Halloween Party (12 Steps) to learn the basics of Halloween party planning regardless of age group, and then return here afterwards.
---
Identify Your Guests
Sure, it's a kids' party, but that doesn't necessarily identify your guests clearly enough.
Ask yourself whether this is a children-only party or an all-ages party. If it's a kids-only event, do you plan to make any allowances for the parents or guardians who will likely accompany some of them? For example, will you be serving more advanced fare for them beyond hot dogs and cheese pizza?
If by "kids" you mean teens, you may want to take some of the advice in this post and leave out other portions that you think are more suited to younger children. You'll also want to check out my top 10 Halloween games for teenagers.
---
To Theme or Not to Theme
You'll also want to determine whether or not there's a specific theme to your party. Some popular themes for a children's Halloween party include, but are not limited to:
Princesses (check out costumes and princess theme ideas)
Pirates
Ghosts
Clowns
Animals
Monster High
Hotel Transylvania
Scooby-Doo
The Nightmare Before Christmas
The Corpse Bride
Be sure to set the tone for your theme party from the very beginning by sending matching invitations and include any instructions around costume types, if applicable.
---
Duration & Format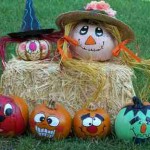 I find that 2-3 hours is usually enough time for a children's Halloween party (or birthday party for that matter). Whatever duration you decide on, make sure it's clearly indicated on the invitations so that people know
Within that time, you'll want to follow a more structured format than you would for an adult party, as these are typically very openly structured (the only exception being adult murder mystery dinner parties).
Kids' Halloween parties are generally activity-driven. I usually have about five games or activities planned out for the kids, with an extra one or two as backup in case they get through them faster than anticipated.
I also allow 10-15 minutes for guests to arrive before beginning, and hand out loot bags to the kids just before they leave. During that time, I greet the children and let them mingle with each other.
Here's an example of what your party format could look like:
10-15 minutes: arrival and greeting
15-20 minutes: first game or activity (e.g. Pin-the-Smile-on-the-Skeleton)
15-20 minutes: second game or activity (e.g. Mummy Wrapping race)
15-20 minutes: third game or activity (e.g. Pumpkin decorating)
20-30 minutes: lunch or snack
15-20 minutes: fourth game or activity (e.g. Halloween Bingo)
15-20 minutes: fifth game or activity (e.g. Cupcake decorating)
10-15 minutes: loot bags and departure
You may have noticed that I chose less physical games for after lunch so that the children don't wind up with an upset stomach. I also let them eat their cupcakes before they leave if there's time; otherwise they can take them home and eat them at a later time.
---
Games & Activities
If you need ideas for games, check my favourite Halloween games and activities for kids, which I use at my own kids' parties, or consider some of the third-party resources available for purchase below:
Easy Halloween Kids' Activities CD – An all-in-one 2 CD kit that include sound effects as well as games, recipes, and more in PDF format.
Pumpkin Painting Guide – Safer, easier, and longer-lasting than carved jack-o-lanterns.
Halloween Games & Activities for Kids – Printable bingo, tic-tac-toe, word and math puzzles, colouring pages, mazes and more.
Easy Face Painting Guide – Learn how to add a ton of fun by painting your little guests' faces with simple designs for beginners!
---
Tips
Remember, they're just kids – so be sure to consider the following:
Think fun and basic when you're planning the menu
Avoid decor or sound effects that are too scary
Have first aid supplies nearby in case someone gets hurt
Obtain a phone number for each parent or guardian who is not accompanying their child
---
I hope you found this blog post helpful. Check out the Food & Drink section for great free recipes like Boonana Ghosts and Eyeball Punch!
If you have any questions or comments, please post them below and I'll be sure to respond within a day or two at the very most!
---