Here's how to host a coven-themed, Halloween witches party. You'll need to keep several key considerations in mind, including decor, invitations, food and drinks, and more. Fortunately, I can walk you through the process quickly and painlessly, so you can get to work on organizing and planning for the big night. If you follow the best practices provided below, you'll save precious time and know you're on the right path.
That said, if you are new to entertaining and would like some help on how to plan a Halloween party before focusing on the theme, I recommend that you start by reading my Halloween Party Planning 101 post, which covers the 12 things you must always absolutely consider when organizing any kind of Halloween party.
---
Invitations
I always recommend that you set your theme clearly from the very beginning by choosing the right invitations. This generates more excitement for your party and helps inform your guests as to what to expect and how to dress.
For a witches' coven theme, my favourites are the Martha Stewart witch invitations pictured here. They have a nice gothic feel, a variety of top-notch designs, and feature a lace trim for a unique touch.
On the other hand, if you have time and are artistically inclined, you may want to create your own invitations from scratch. What I've done in the past is to use worn-looking parchment-style paper and them writing out the invitations myself
.
You can also type them out on a computer instead. In that case, I'd recommend that you use a font similar to handwriting or a fountain pen, like Viner Hand ITC, which you can find in Microsoft Word.
When they're all written or printed, roll up the invitations to look like scrolls, tie them with a strip of black or orange leather, and then deliver them in person. Obviously, for guests who live too far away, you'll need to mail them instead.
Regardless of the type of invitation you select, remember to ask your guests to come dressed as witches and warlocks. They're all part of your coven, after all!
---
Decor
"Double, double toil and trouble; Fire burn, and cauldron bubble."
– The Three Witches, Macbeth
You'll want to set the mood for your witch party with the right kind of decor.
If you can afford it, I strongly recommend setting up a life-sized animatronic witch like the one pictured here to greet your guests as they arrive. One of my friends has one and it's absolutely amazing. The movements are realistic, the voice is creepy, and people always get a really big kick out of it!
There's a lot you can do to make your party welcoming to witches and warlocks. There are the classic must-have decorations like black cats, bats, rats, and hats, but if you're looking to create a Salem-like atmosphere, you'll need  a more satanic look and feel as well.
To help you get started, here are some key decor elements you might want to get your obtain in order to set the stage for your Halloween witch party:
Black plastic cauldron
Straw brooms
Witch hats
Clear bottles and vials with coloured water
Old-looking jars with labels like Eye of Newt, Wing of Bat, etc.
Small, disgusting ingredients (eyeballs, frogs, fingernails, etc.)
Black cats, bats, and rats (plus, plastic, rubber, or cardboard cutouts)
Cotton cobwebs with plastic spiders
Pentagrams
Goat skulls
Worn-looking black tablecloths
Flameless flickering candles, preferably black or red
---
Food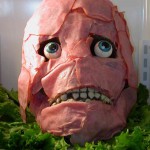 Just about any type of Halloween-themed food will do for a witches party, as it's common and generic enough.
I'd recommend zombie fingers (but rename them witch fingers to be more appropriate for your party), and of course the always-popular meathead – a decapitated head that your guests can pull apart and eat!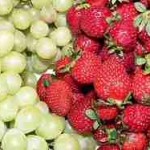 Provide simple, hearty foods as well, like meat, bread, fruit, and cheese. Check out the Recipes page for even more ideas.
If you're concerned about food allergies, I'd recommend using my free Halloween food labels to identify your dishes for your guests. Since they can be customized, you can also use these labels to re-brand classic favourites to fit better with a witches' theme (e.g. chicken wings can become bat wings).
---
Drinks
While you'll want to offer your guests a variety of drinks at any party, I like to keep as many of my offerings as possible red for this type of theme, so I make sure I offer red wine, cranberry juice,
and a nice giant bowl of eyeball-infused fruit punch!
Beer and mixed drinks should also be served, of course, and if you want to add a touch of Halloween to your beer, consider making a batch of pumpkin spice beer (I share the recipe in this post covering all types of fun alcoholic drink recipes for Halloween).
Once you have your drink menu figured out, you need to go the extra step and think about your glassware.
What better way to serve your drinks than in a skeletal goblet
 or an inflatable cauldron cooler?
---
Extra Touches
Serving your food on black tableware will help enhance the mood
Be sure you and your guests know where to find some good witch costumes and get them ahead of time to ensure the one they want is still available in their size
Fog is a perfect fit for a witches' party, so if you don't already own one, you may want to consider buying a fog machine. You can check out my review of low-lying fog machines to find out more about the top contenders.
---
Want more? Get some party planning advice on the Hosting page, or check out the Ideas section for more inspiration.
Please post any questions or comments below. I'm here to help and typically reply within a couple of days or less!