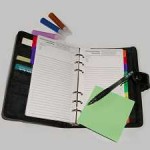 The key to effective Halloween party planning is knowing how to stay organized. There's a lot to do and to keep track of! Relying solely on your memory — no matter how sharp it might be — is simply a risk not worth taking.
Instead, follow these tried-and-true best practices to ensure you set yourself up for success. They're easy and will help you stay on track for organizing and hosting the greatest Halloween party of all time!
---
Guest List
First things first: your guest list. Determine who you're inviting and send out your invitations as soon as possible (see my post on when to start planning).
Once you've done that, keep track of everyone you've invited on paper or on a computer spreadsheet. Use columns and check marks to indicate those who've confirmed their attendance or declined the invitation. The rest of the invitees are considered pending until you hear from them. Don't bother with "maybe" responses. In my experience, anything but a "yes" always ends up meaning "no."
If your guests are bringing friends, try to find out how many. They may not know yet, so don't be pushy. It's important to know how many people to prepare for, without having guests feel like they're imposing by bringing a friend or two.
Keep your guest list updated regularly as you receive new replies. This will help you quickly adapt your shopping list and planning to the growing or shrinking list of attendees.
---
Master Checklist
Keep a simple, straightforward checklist of everything you need to buy and do in preparation for your Halloween party. You'll need to keep this updated as well, adding new tasks as you think of them and checking off the ones you've completed.
To help you get your list started, I recommend you read my Halloween Party Planning 101 article for a list of 12 things you need to consider when planning a Halloween party and detailed information on each of them.
In short, they are:
Guests
Time & Place
Type of Party
Theme
Costumes
Invitations
Decor & Props
Music & Sound Effects
Food
Drinks
Lights
Games & Prizes
Of course, you'll need to add your shopping list items of decorations and recipe ingredients as well.
---
Be Ready
When the day of the party comes, don't forget to put on your own costume. I'm serious.
I know a hostess who used to wait until the last minute before getting ready because she didn't want to get her costume dirty. Trouble is, she had a tendency to be late for her own party as a result. People would arrive and basically waiting around while she was in her room putting the finishing touches on her costume. Promises that she'd "be right there" sometimes had people waiting close to an hour. That's a no-no.
Even if you find you still have things to do, put them on hold. Go get dressed. The final preparations will still be there waiting for you, and it's better to have them waiting for you than your guests waiting for you.
As a rule of thumb, ensure you're fully dressed in costume at least one hour before your guests are due to arrive. Some guests may arrive early so you want to be ready for them. Even if no one is early, the last thing you want is to have anyone waiting for you when the party starts. Being late for your own party doesn't send a good message or create the positive impression you've worked so hard to achieve with all your hard work leading up to this day.
---
I hope you found this information helpful. You can get more party planning advice in the Hosting section, or check out out the Ideas section for ways to make the most of your party.
If you have any comments or questions, or would like to share tips of your own, feel free to post them below!