Here are the top 10 Halloween costumes for couples (with photos). Finding a couples costume for Halloween can be challenging, and it may seem like there aren't very many options, so I thought I'd lend a hand. In the spirit of making your Halloween party planning easier, I've done the work for you and have listed a variety of options from funny to sexy to just plain creative.
Check them out and see what you think!
---
10. Bacon and Egg
– Add some humour and "sizzle" to your Halloween with this hilarious couples' costume!
---
9. Peanut Butter and Jelly – Sweet, nutty, and hilarious. Plus, every hug will transform you into a sandwich!
---
8. Wine and Cheese – Perfectly paired! Less common than the other food costumes, this one's a rare find at parties.
---
7. Lock and Key – She's his and only he has access. Simple, to-the-point, with a sexy look for her.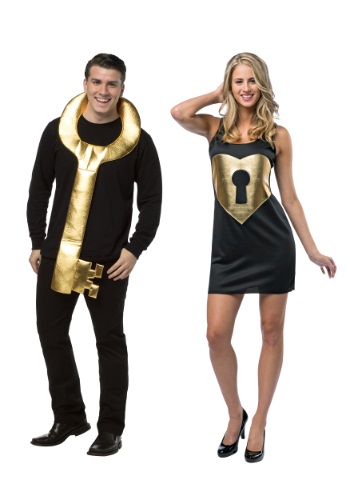 ---
6. Tourist Couple – Easy, simple unisex costume for a humorous take on the overweight tourist couple.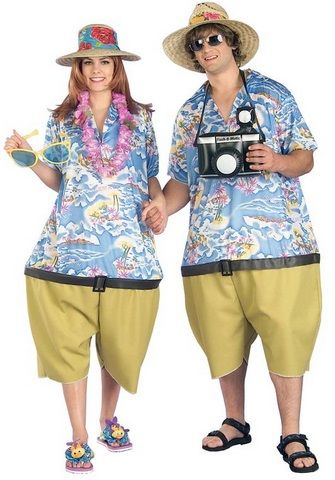 ---
5. Adam and Eve – The original couple and the original sin. Make your guests look twice to make sure you're not naked!
---
4. Plug and Socket – Always popular and good for a laugh, this costume is a proven party favourite.

---
3. Tavern Wench and Beer Pint – Nothing says party like a beer and sexy server! Sexy for her, funny for him.

---
2. Han Solo and Princess Leia – The space princess and her pirate lover. Forever a top contending couple!
---
1. Pop Art Couple – This one is so unique that it truly belongs at the top of the list. Very creative!
---
If you need more costume ideas, visit the best places to buy Halloween costumes online or check out the top 10 sexiest Halloween costumes for women.