Here are the best, official The Walking Dead Halloween costumes available for men and women, with pictures! Whether you're hosting or attending a zombie-themed party or simply want a costume inspired by AMC's hit show this Halloween, you've come to the right place!
Below you'll find the best The Walking Dead costumes for men and women that you can buy. All are officially-licensed  pieces. Some are complete costumes, while others need to be combined with other pieces to obtain the desired look, but all of them are 100% fun!
---
11. Neagan – I am Negan. Need I say more? The arch-villain of the series, Negan is the character everyone loves to hate. Begin with jeans and a casual belted leather jacket, then complete the look by adding your very own Lucille — a bloodied baseball bat wrapped in barbed wire!
---
10. Split Jaw Zombie – Made famous by Michonne's pets, this type of walker is instantly recognizable in the world of The Walking Dead. I'd ensure you smooth out the edges better than shown here, but then it's just a matter of adding some tattered, bloody clothes and you're good to go!

---
9. Patient Walker – An officially licensed walker costume inspired by undead hospital patients from the show! Comes complete with molded wound.

---
8.Decomposed Zombie – A super creepy, officially-licensed walker costume from AMC's The Walking Dead!

---
7. Well Walker – This latex mask is an exact replica of the famous well walker from Hershel's farm! Throw together some tattered, moldy clothes that look like they've been soaking in standing water and you'll be the hit of the party!
---
6. Tyrese – While there's no complete Tyrese costume available, you can easily put your own together with the official Tyrese hammer, a black beanie
and some worn, bloodied clothing.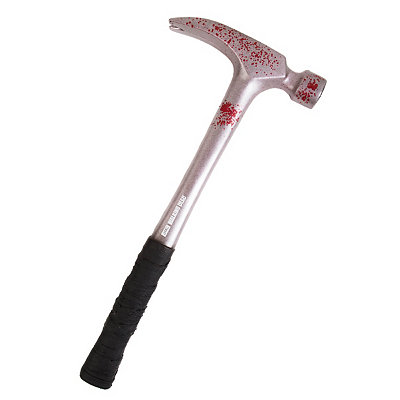 ---
5. Bloody Rick – This Season 1-inspired costume portrays Rick Grimes covered in bloody body parts to avoid detection by walkers.

---
4. Little Girl Zombie – The first zombie to be killed on the show, she's an iconic favourite. It even includes the bunny slippers! Just add the latex mouth appliance
 and battered teddy bear
 to complete the look.

---
3. Michonne – By far the fiercest female character – if not the fiercest character, period. Combine the official licensed Michonne wig, katana
, and cloak
to create the look! For more fun, grab a zombie neck chain
 or two and enslave your zombie friends!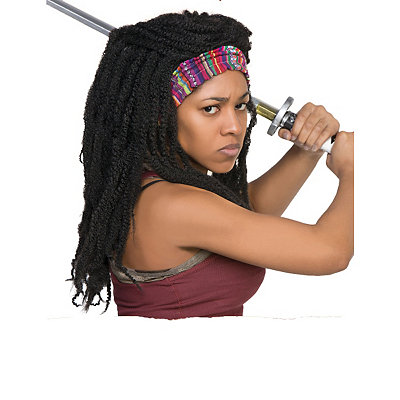 ---
2. Daryl Dixon – The only character more popular than Rick Grimes on The Walking Dead is Daryl Dixon – especially with the ladies. Grab this vest and a toy crossbow and you're all set!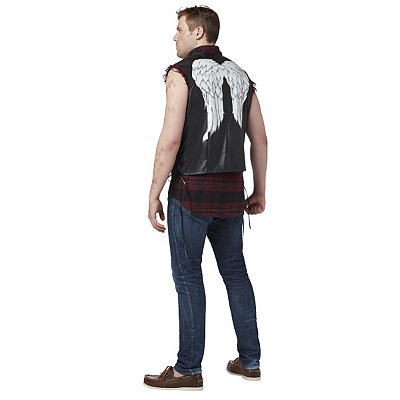 ---
1. Rick Grimes – Whether you're attending a zombie-themed party or not, the lead character from The Walking Dead  is always sure to get a great reaction.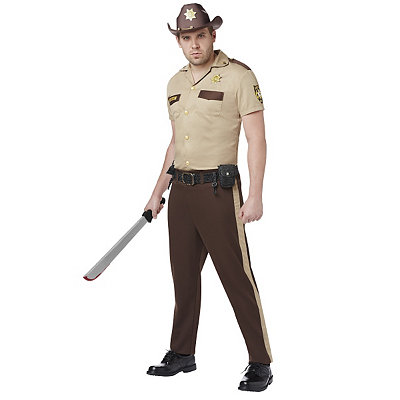 ---
For more costume and makeup ideas including how to make your own non-staining fake blood, check out the Costumes section, or get everything you need to host your own Halloween zombie party!