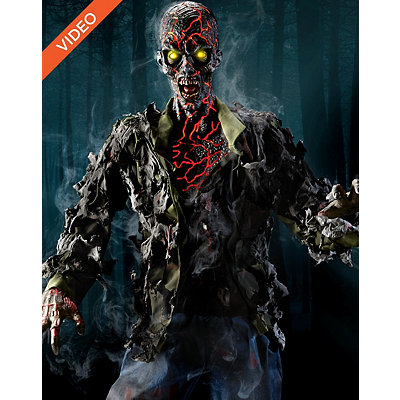 How does a six-foot animatronic smoldering zombie sound? Smiling? I thought so. Made popular by AMC's The Walking Dead, smoldering zombies are the latest addition to the seemingly unending variety of undead creatures to fear.
I found one on Spirit Halloween that immediately caught my interest, so of course I had to check it out and see if it was worth the hype.
Let me walk you through what I've found so you can make your own decision. I'll even provide a link to a demonstration video of the thing in action so you see exactly what I'm talking about.
Ready? Here we go…
First off, it's six feet tall, which is life-like and very important if you're aiming to frighten grown adults. It's also authentic looking and will easily fit in with any zombie themed decor you have. The level of detail is high, and the clothing is actually made of cloth (not painted on made of cheap vinyl).
The zombie moves its head, arms, and body. The eyes glow yellow, and the pulsating embers glow a nice fiery red. My favourite part? It makes creepy, movie-quality zombie sounds! If you're hosting a zombie-themed party, this guy becomes a must-have in my opinion!
Check out the zombie in action by viewing the demo video here. Even before seeing the video, my first thought was to incorporate a fog machine to enhance the smoldering effect with smoke. If you don't already have one, you can check out my review of the best low-lying fog machines.
Cost-wise, you're looking at about $230, but it's well worth it if you're looking for an animatronic that will dominate your decor. Given the fact that it's exclusively available from Spirit Halloween (at least for now), I'm surprised they're not charging more for it.
---
The Verdict
Pros: Life size, realistic, frightening, animated, zombie sounds, lights up
Cons: None
Patrick's Pumpkin Rating: 5/5