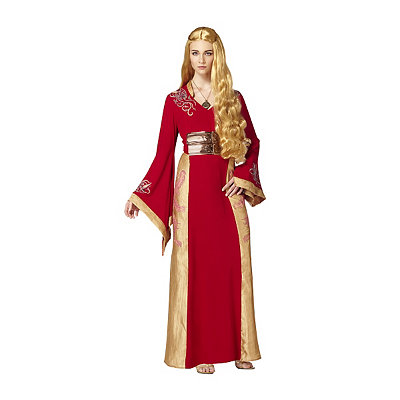 Here are the best Game of Thrones Halloween costumes for men and women, with pictures and links! Are you hosting or attending a Game of Thrones themed party? Perhaps you simply want to don a costume from the show this Halloween, or you're planning to attend a comicon? Regardless, you've come to the right place!
Below you'll find the best Game of Thrones costumes that you can buy. Some are complete official costumes, while others need to be pieced together from a couple of different sources in order get the desired effect. Regardless, the finished ensembles are well worth the effort!
And now, without further ado, here are HalloweenPartyExperts' top picks for best Game of Thrones Halloween costumes!
---
10. Khal Drogo – Leader of the Dothraki, his marriage to Daenerys Targaryen made her Khaleesi. You'll need the long braided wig
 as well, and complete with a sword or Drogo's curved blade, the arakh
.
9. Melisandre – Does the Red Woman use her connection to the God of Light to predict the future and guide world leaders – or is she just a phony manipulator? If you don't have similar hair, you can obtain the matching wig
. You may also want to add the ruby choker 
to complete your outfit.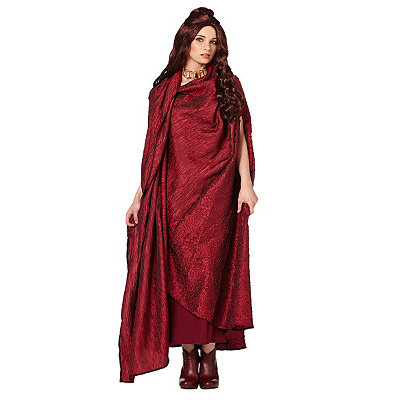 8. Cersei Lannister – An undeniable favourite, Cersei is the merciless queen regent and troubled sister we love to hate. Tormented and determined, nothing will sway her. If you want to portray her long golden locks, you may need the matching wig
as well.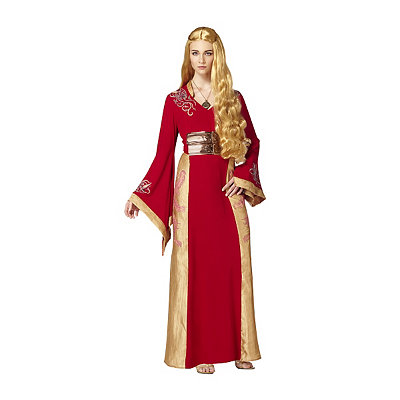 7. Robb Stark – Costumes for this beloved character are hard to find, but you can easily create your own using a leather tunic  and faux-fur warrior cloak. You can then accessorize with the Robb Stark sword
and House Stark shield
, and even the dire wolf helmet
for a not-so-living version.
6. 
Grey Worm – While there's no official Grey Worm costume available as of yet, you can become the Captain of the Unsullied with this near-perfect costume. Just add a spear or sword and be sure to practice the accent!
5. Margaery Tyrell – Wife of the late Joffery Baratheon
, she is an always-popular choice for women's Game of Thrones costumes. Simply do without the white wig shown (swapping for brown hair instead), then add Margaery's crown
to complete the look.
4. Jon Snow – Lord Commander Jon Snow, bastard son of Ned Stark, friend of the Wildlings, and lover to Ygritte. A fan favourite and undoubtedly one of the most popular male costumes. To get this outfit right, begin with the deluxe Night's Watch costume with cloak, then add the Jon Snow wig, black boots
, and of course Jon's sword, Longclaw
.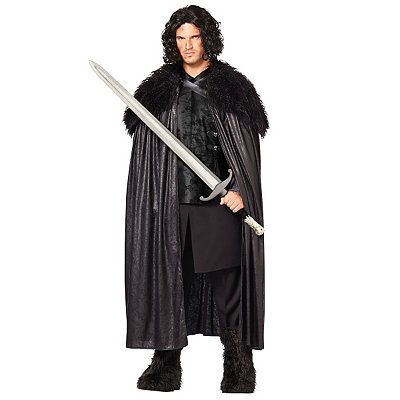 3. Daenerys Targaryen (Khaleesi) – Before she was Mother of Dragons, she was Khaleesi of the Great Grass Sea. Get the matching wig
and add a teaser with one or three plush dragon eggs (brown, green
, or gold).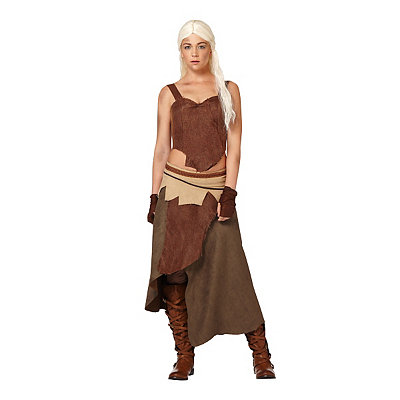 2. Daenerys Targaryen – The great Daenerys Stormborn of the House Targaryen, the First of Her Name, the Unburnt, Queen of Meereen, Queen of the Andals and the Rhoynar and the First Men, Khaleesi of the Great Grass Sea, Breaker of Chains, and Mother of Dragons.  Complete the look with the unique matching wig and a pet dragon
.
1. White Walker – Need I say more? This perfectly-detailed white walker mask is worth every penny, if you can afford it. Accessorize with medieval clothing, armor, and weapons as you see fit, given the wide variety of reanimated corpses on Game of Thrones.
---
Check out the Costumes section for more ideas, or get everything you need to host a Game of Thrones party. Have a question or comment? Post it below!