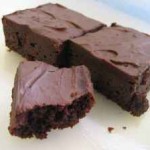 Tombstone brownies are a Halloween dessert that's super-easy and quick to make. You can make this in a matter of minutes if you use ready-made brownies. These are popular with both children and adults – everyone loves chocolate brownies – so it's a great addition to your Halloween party menu.
You can do this in no time with just a few simple steps.
---
Preparation Time
10-15 minutes
What You'll Need
Directions
Cut ready-made brownie into rectangular-shaped individual serving sizes. These will be your cemetery plots. You can make your own brownies from scratch, but it will take longer.
Spread chocolate frosting onto the brownies.
Break the chocolate bar into individual rectangle portions and cut rounded corners on one end to make the tombstones.
Optional: Add a drop of green food colouring to a bowl of shredded coconut, then mix. Sprinkle green coconut on top of the brownies to mimic grass. You can also add peanuts or raisins to mimic rocks, assuming none of your guests are allergic to them.
Write the letters "R.I.P." on the front of the chocolate tombstones using the icing pen and let the icing set for a few minutes. I use the back of the chocolate bar as the front of the tombstone because it's flat.
Place one chocolate tombstone at the top end of each cemetery plot (brownie rectangle).
Place completed tombstone brownies onto a serving platter with plates and napkins nearby.
---
Tip: You can prepare your tombstone brownies ahead of time, as they will keep overnight in your refrigerator. Just be sure to cover them before storing. If you're pressed for time, you can omit the brownies altogether and simply serve individual chocolate tombstones!
Check out more Halloween recipes in the Food & Drink section. For more party ideas, check out the Ideas section.