Looking for original, ready-made Halloween treats that you can simply buy and serve? Here are some of my favourite treats.
On top of being high-quality candies and chocolates, you can get them shipped directly to your door, no cooking required. They're also different from the usual Halloween fare, which is great if you're hoping to offer something different.
Just click, order, and voila. They are absolutely delicious and your guests will love them!
---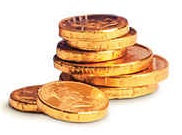 Gold Chocolate Coins
 – A classic perfect for your pirate-themed Halloween party.
Milk chocolate wrapped in gold foil.
---
Bloody Gumball Eyes – A spooky alternative to traditional square gum.
Fat-free, gluten-free, and peanut-free. Bubble gum flavor
---
Halloween Rice Krispies Squares – A Halloween twist on an old favorite!
Great for the kid's parties, picnics, ballgames, sack lunches, etc. Contains 60 mini squares per box.
---
You can find more great ideas including recipes in the Food & Drink section.
Feel free to leave your questions and comments below!